If you are looking for a unique urban electric powered bicycle, may be interested in a completely unique layout which has been launched with the support of the Indiegogo crowdfunding website and designed by using Ossian Vogel based in Switzerland.
The MOKE electric bike has been designed to provide an affordable high-powered utility bike that is capable of comfortably sitting two people or even one adult and two children.
MOKE electric bike Design
The MOKE is a uniquely designed and well-crafted electric bike that measures 1650 x 700 x 1040mm and weighs 26kg. As we can see from the images, the electric bike boasts a pretty cool combination of retro style and modern design.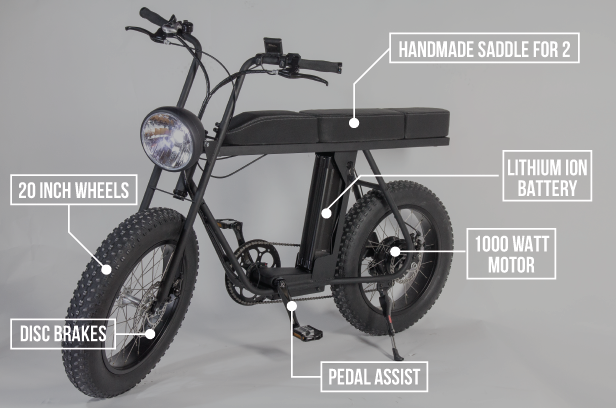 MOKE electric bike Features
The ebike features a rugged CroMoly steel frame that provides motorcycle-style ruggedness and allows it to support 180kg passenger weight. Moreover, its long seat supports two persons or one adult and two kids, and you can also add various accessories to the ebike based on your demands.
The MOKE comes equipped with a 1000 watt motor and removable 11.6Ah lithium-ion battery so it's capable of cruising at over 45km/h and delivering a 20 mile travel range. Furthermore, the electric bike also features Pedal Assist mode with 9 levels, which not only brings more fun during riding, but also extends your range past 30km.
Additionally, two all-terrain tires allow the MOKE to handle various terrains, and carbon disc brakes make the ebike safe to stop if needed. Apart from these, the electric bike also features a vintage metal LED headlamp and a red taillight that keep you visible at night. Using a USB port on its LCD controller, the ebikes also charges your smartphone or other devices when you're the move.
MOKE electric bike Price
MOKE has launched via Indiegogo this week and is available to super earlybird backers from $1799 with shipping expected to take place during July 2017.